Name Generator
A name generator is a free tool made for the dual purposes of inspiration and entertainment. It creates random character names that are cool and funny, and it makes useful names for businesses, babies, bands, fantasy gamers and music artists.
Our site allows you to generate names that are random, or ones tailored to you based on your name, whether you are male or female. Many of our generators also return neutral gender results for people who would rather go incognito online. We also have a selection of name picker tools that allow you to find, filter and browse results based on meaning.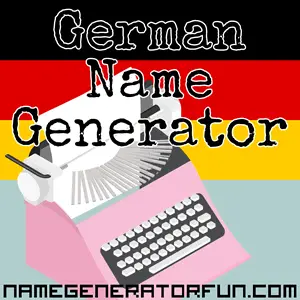 Writers! Use our German name generator to create authentic sounding fictional characters!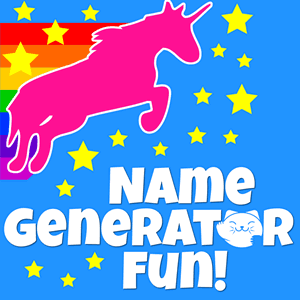 About Name Generator Fun
Welcome to the home of the first ever name generators! Our site is the creative project of soon to be husband-and-wife team Emma Davies and Saxon Bullock.
We've been making name creation tools since 1999, when we invented the original fairy name generator, and we've since expanded to feature a wide selection of fantasy name generators that will give you a well-crafted and distinctive name! Some of our most popular pages are for superhero names and rap names, but there's plenty more to discover if you're searching for a baby name or a new business name or gamertag for gaming, forums, or social media. Visit the menu above to see our full selection of name generators!
Emma created the second ever name generator on the internet in 1999 after a friend emailed her a link to a tool for making disco names. She found it so amusing that she taught herself how to code to make her own, and the first fairy name generator was born! She followed up a couple of years later with the first vampire name generator, and she was astonished when she discovered her site had become a meme and her colleagues were even sharing it around her own office!
In 2010 Emma decided to concentrate on making this website. Together, she and Saxon have created a number of other original generators, such as for unicorns and mermaids, as well as many hits, including their pages for superheroes, rappers, and various kinds of fantasy names, particularly elves!