Name Generator > Character Names
Character Name Generator
Writers! Are you naming a fictional character? Choose a name with our character name generator!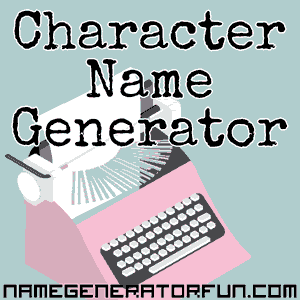 About the Writer's Character Generator
In need of inspiration? Fed up of staring at a blank page and trying to find the right name for a character? Need to name a baby in a hurry? Then we have the solution!
We have a series of different character name generators that produce personality descriptions and names from different countries. This particular page produces random fictional character names.
This series of generators are mainly aimed at writers and creators who are looking to make appropriate and convincing characters. Whether you're having your first go at NanoWriMo, or you're an experienced writer in need of a quick name for that minor player you've just thought up, we aim to bring some inspiration.
Especially when writing a novel or a series of stories, coming up with a fitting name for each member of your cast can be surprisingly difficult and time consuming. We hope to make things easier by giving you the opportunity to craft an immense number of convincing potential characters with whom to populate your stories.
Unlike other sites, we also provide a random personality type for each character created. The data for this is based on the Big Five personality model, which scores users on a five-factor scale abbreviated to OCEAN – openness, conscientiousness, extroversion, agreeableness, and neuroticism. The Big Five data is the "gold standard" of psychological research, and more up to date than other models.
We are continuing to add new pages to this section of the site, giving you the chance to create characters from a variety of countries. Maybe we can help you to discover a new story waiting to be told!
Retro typewriter designed by Rawpixel.com. Licensed under CC BY 3.0.