Name Generator > Rap Names > Band Names
Band Name Generator
Do you have a band but you just can't think up the right name? Are you looking for something catchy, memorable, unique, or funny? Then you've come to the right place for inspiration, so get clicking with our band name generator!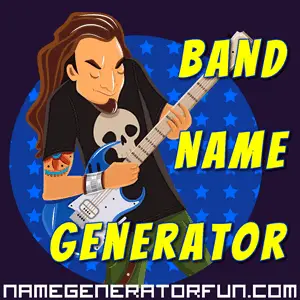 Creating an Awesome Band Name
Do you have a hardcore rock band or a light-hearted indie band? A floaty goth band or a fun Celtic folk band? Whatever your musical style, from pop to metal, we have some fantastic choices for you! Pick the type of names you want to make and get inspired by our suggestions. We're quite proud of this generator, and if you want a good laugh, the indie band names are particularly funny and reminiscent of the British indie music scene.
How to Choose the Ultimate Name for Your Band
You've formed the band. You've mastered your instruments. But now, you've got to figure out a name that's going to grab attention and take you places – a name with the potential to go down in music history. It may be a tall order, but there are plenty of ways that you can at least try for a legendary name when you're figuring out what to call your band:
Short names are best...
Sometimes, going for something short and snappy is the right thing to do. One-word band names like Genesis, Blur, Queen or Muse can stick easily in the mind and immediately conjure up a sense of what the band music is going to be. You can go for simple nouns (Oasis, Poison, Cream), simple verbs or sounds (like Kiss, or WHAM!), American states (Texas), or you can choose one of your members' distinctive names (Goldfrapp). 
...Except when they're not
Trouble is, one-word names can be really tricky to come up with, and lots of them are already taken. Sometimes, the best way to go is in exactly the opposite direction! Instead of going short, go for elaborate, complex names like …And You Shall Know Us By The Trail Of The Dead, or Godspeed! You Black Emperor.
Definitive articles can help
If you've got a one-word band name that just doesn't sound right on its own, slap a dramatic 'The' on the front, and you're in good company, from The Beatles and The Doors to The Who and The The!
Don't get too weird
Oddball spellings or interesting foreign words might sound great in theory, but you want your band to be easy to find. Even a band as well known as Lynyrd Skynyrd can be tricky to locate online – some small changes can be made (like changing 'c' to a 'k', as in Korn), but keep the name memorable and relatively easy to spell. 
Combining is king
Sometimes, you can generate an exciting band name by sticking two words together in order to create a 'kenning', or combination word – a method that's been used in the past by bands including Radiohead, Coldplay, Soundgarden and Motorhead.
Stick to your genre
If you're an indie-rock band, you don't want a dark, edgy name that would better fit a metal band. If you're writing love songs, you don't want to make people expect energetic hip-hop. Whatever music you're writing, make sure the mood is reflected in the name you choose.
Hit the books
When you're struggling for inspiration, have a look at some classic literature or some old-school epic poems, and look for lyrical or weird turns of phrase. Or, if your tastes are more experimental, look to the weirder edges of literature – pick up some William Burroughs, some Borges or some Charles Bukowski, and see what kind of ideas and phrases leap out at you!
Think about the merchandise
It's important to bear in mind how your band's name might look on any T-shirts, posters or stickers you want to sell. Sometimes, a band name doesn't have to mean anything as long as it looks good – like Nine Inch Nails, which Trent Reznor only chose for his band because it abbreviated down to a cool-looking acronym.
Check availability
There's nothing more frustrating than coming up with what seems like the perfect band name, only to find out that there's already a band out there using it. Check the web thoroughly to make sure nobody else is using the name – you don't want your fans getting confused, and you'll also want to make sure that nobody else can lay claim to your ideal web address once your website is ready to go online.
Consensus is vital
It doesn't matter how much you're convinced that your new band name idea is the best – if not everyone else in the band agrees with you, it could easily create tension and resentment if you try and force the matter. Instead, create a shortlist, vote for your favourites – and be prepared to compromise if things don't go your way.
Guitarist designed by Macrovector. Licensed under CC BY 3.0.