Rap Name Generator
Need to improve your flow? Want to impress the crowd with a scorching MC name? Are you ready to bust a mike as the latest hot rapper to hit the streets? Then make your own name with our rap name generator!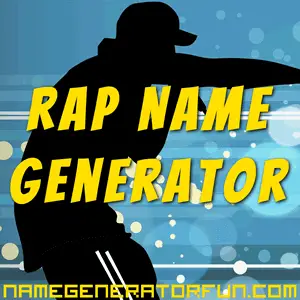 How to Create a Rapper Name
From early pioneers like DJ Hollywood, DJ Kool Herc and Rakim to legends like Grandmaster Flash, Chuck D, the Wu-Tang Clan and The Notorious B.I.G., having the right kind of punchy, attention-grabbing name as a rapper is an absolute must. Artists like Childish Gambino and Post Malone have actually used rapper name generators like this to choose their names, so if you want to craft a persona that's going to set the hip-hop world ablaze, why not give it a shot?
How Rap Artists Got Their Names
Rap artists need a stage persona that has the right kind of energy and attitude – and part of finding that persona is choosing the right name. Over the years, there have been a number of different methods employed by various rap superstars, all of which have resulted in bizarre, memorable and attention-grabbing rap names. Sometimes it'll be a nickname – there's Snoop Dogg, aka Calvin Cordozar Broadus Jr, who got his infamous rap monicker from his mother, thanks to his childhood love of cartoon character Snoopy from the Charlie Brown TV animations; and there's The Notorious B.I.G., aka Christopher Wallace, who started off with the childhood nickname Biggie Smalls, a character from the 1975 film Let's Do It Again, but then had to modify the name when another rapper was also using it (although he still regularly referred to himself as Biggie Smalls in his songs). Childhood nicknames were also a source of inspiration for rappers like The Game (aka Jayceon Terrell Taylor) who got his name via his grandmother, and Ice Cube (aka O'Shea Jackson), who got his nickname from his elder brother.
Sometimes it's just a case of modifying or taking inspiration from your own name – like with Eminem, aka Marshall Mathers, who took the first initials of his name, transposed them into 'M&M' and then turned it into a phonetic word. Your stage name can also come from your childhood, as it did in the case of Waka Flocka Flame (aka Juaqin James Malphurs), who used the 'Waka waka' catchphrase of Muppet character Fozzie Bear as inspiration for his stage persona – and this was also true for Macklemore, who named himself after an eccentric superhero called 'Professor Macklemore' that he originally created for a high school homework project. It can also be an acronym, like with KRS One (aka Lawrence Parker), whose name stands for 'Knowledge reigns supreme over nearly everybody); or LL Cool J (aka James Todd Smith), where his name stands for 'Ladies Love Cool James'; or there's legendary rap trio the Beastie Boys, where (at least according to an early interview with US TV host Charlie Rose) Beastie actually stands for 'Boys Entering Anarchistic States Towards Internal Excellence'.
Some rapper names can be specifically chosen to show a particular attitude – like 50 Cent (Curtis Jackson), who named himself after an infamous Brooklyn stick-up artist; or Action Bronson (aka Ariyan Arslani), who grabbed part of his name as a homage to actor Charles Bronson; and especially Wu-Tang Clan member Ol' Dirty Bastard (aka Russell Tyrone Jones), who was named after a martial arts movie called Ol' Dirty and the Bastard.
Rap names can also have more serious meanings, like with M.I.A. (aka Mathangi 'Maya' Arulpragasm), who chose her stage name because it can stand for 'Missing in Action', referring to her cousin who went missing in Sri Lanka, as well as 'Missing in Acton', referencing the London suburb where she spent her teenage years.
They can even come from rapper name generators – like with Childish Gambino, aka Donald Glover, who fed his name into an online Wu-Tang Clan name generator, and liked the result so much he decided to stick with it. Post Malone has a similar story. He says that at age 14 he ran his name, Richard Austin Post, through a random rap name generator when looking for an identity under which to release his first mixtape, and the moniker stuck.
If you would like to learn which rap name generator we think Childish Gambino and Post Malone used to get their names, visit our FAQs page for the answer!
Ultimately, whatever direction they come from, a unique name can help you forge your public persona and set you on the path to a wild and unpredictable musical career!