Frequently Asked Questions
Can I link to you?
Absolutely! We really appreciate links from people's blogs and social media pages, they help our site to grow. Based on Google's latest guidelines, we'd prefer it if you linked to us by brand name like this:
Names created by <a href="https://www.namegeneratorfun.com">Name Generator Fun</a>
I'm a journalist/blogger. Can I write about you?
We would love that! News articles really help to give us a boost. Quoting our generated names and descriptions falls firmly under fair use. If you would like a personalised quote from us, you can get in touch here and we will get back to you ASAP!
Can I use my fairy/vampire/superhero/rap name in a story? For a screen name? For a stage name? In a roleplaying game?
Yes. You don't need to ask us for permission, and we aren't going to come chasing after you for copyright! In technical terms, you have a Creative Commons Attribution-NonCommercial 4.0 International (CC BY-NC 4.0) license. The only people who run the risk of annoying us are large corporations, other name generator sites, and people who make image memes without attribution. Read more on our copyright page.
I have a name generator suggestion!
We really appreciate suggestions! The more people who suggest a name generator, the more popular we know it will be. Please do let us know what you want to see here!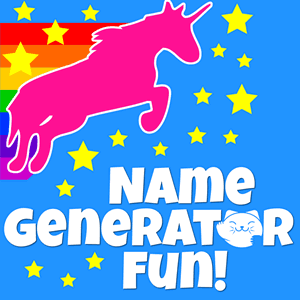 My fairy name has changed! Can I get the old one back?
We try to change the algorithm that returns names fixed to your own name as little as possible, but unfortunately sometimes when we do an upgrade to our software it's unavoidable. We do get contacted a lot about this, particularly when little girls are upset that their fairy name has changed. We want to find a way around it, but it will involve another software upgrade at some point to finally fix all of the names forever. In the mean time, please bear with us! We hope we can make it a reality some day.
You have a rap name creator on your site. Do you know which rapper or Wu Tang Clan name generator Childish Gambino and Post Malone actually used?
The answer is YES, and MAYBE!
Childish Gambino AKA Donald Glover used a Wu Tang Clan name generator. There are only three of these generators. One is on the Wu Tang Clan site, and was created recently, we think in response to Childish Gambino saying he got his name from one. The other two are at mess.be, and recordstore.com, and it's become a bit of a mystery as to which one is the one Donald Glover used, because if you type his name into either one, they both return "Childish Gambino". So one of them has been hard-coded! Because Emma makes name generators, she can reverse engineer them to some extent to find out how they work. Various clues Emma would rather keep secret make her think that the one Donald Glover actually used is probably the Wu Tang Clan name generator at recordstore.com.
Post Malone AKA Richard Austin Post has said that he used a random rap name generator at the age of 14 to get his rap name. We calculate that he must have used a rap name generator that was on the web in about 2009 for that. According to The Wayback Machine, there were only about three rap name generators around at that time, one was at rapstarname.com, another was at myrapname.com, and the last was at behindthename.com. Looking at the styles of names these generators produce, we believe the most likely candidate is rap name generator at myrapname.com. We haven't been able to get a "Post Malone" out of it yet, but it seems the most likely candidate, even if he was just inspired by the generator to make a name of a similar style.
Can I have your name generators on my site?
We are considering offering a paid JSON API. Please do get in touch if you are interested.
Can I advertise on your site?
Yes, for the right price! Send us your proposal here. We get a lot of queries that look like spam, so please don't ask us to call you, just be up front about what you can offer.
Will you be making an app?
Yes! We are currently involved in a big overhaul of the website, as well as finishing the build on our narrowboat. Once the site overhaul is done we plan to start developing apps for both Android and iOS. That will probably happen sometime in 2019.
I have the same fairy name as Adolf Hitler/Osama Bin Laden/Joseph Stalin!
Oh dear! That doesn't happen very often because most of our name generators use quite big databases and complicated algorithms. What can we say?! Sorry??
Why don't you give us a big list of all the sub-components of names?
No, because you'd use it to build a rival generator site!
Who are you?
We are Emma Davies and Saxon Bullock, two UK-based geeks who are building a narrowboat. You can read more about us here.