Name Generator > Fantasy Names > Princess Names
Princess Name Generator
Adjust your tiara and put on your dress made of starlight! There's a pumpkin carriage waiting for every girl, so it's time to embrace your inner royalty with our princess name generator!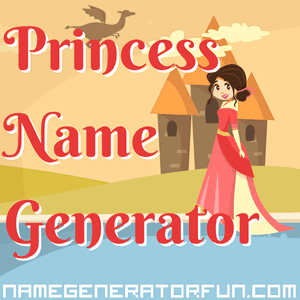 Regarding Princess Names
The History of Princesses
'Princess' is the feminine equivalent of 'prince' – both words originate from the Latin term 'princeps', which means 'principal citizen', and princess is used to describe the wife of a prince, as well as the daughters of a king or a prince. There have been occasional examples of princesses as reigning monarchs – such as Constance of Antioch, who ruled the region of Antioch in the Twelfth Century – but this has not happened often in history, since many principalities or sovereign states had laws that prioritised a male heir to inherit the throne.
For many generations, 'princess' was just one of many names and titles used to describe the daughters of Kings and Queens, with the more common form of address being 'Lady'. However, this changed in England during the reign of George I in the eighteenth century, as the royal children and grandchildren were now officially titled either Prince or Princess of Great Britain and Ireland, and also styled as 'Royal Highness'. This practice was confirmed into law by Queen Victoria in 1864, although while women who marry princes automatically become princesses, men who marry princesses do not become princes, unless they are specifically made so (as in the case of Prince Phillip, Duke of Edinburgh, who married Elizabeth Windsor in 1947, but was only formally made a prince in 1957, four years after she was crowned Elizabeth II).
The Names of Some Significant Real-Life Princesses
Born in 1498, Mirabai was a member of an important family in the town of Mertar in Rajasthan, a northern state of India, and was also a passionate follower of the Hindu religion. She unwillingly married Bhoj Raj, the crown prince of Mewar (another area of Rajahstan) in 1516, but her husband was wounded in battle and died in 1521. Many legends grew up around her thanks to her refusal to follow convention and her open worship of Krishna, including stories that her family regularly attempted to assassinate her, but she eventually became a wandering holy woman and a poet, and is now celebrated in many areas of northern India as a Bhakti saint.
The daughter of the founding Emperor of the Tang Dynasty in China, Pingyang was born Princess Zhao of Pingyang in 598 AD. She was the third daughter of Li Yuan, then a nobleman in the Sui Dynasty, and when her father mounted a rebellion against the current ruler, Emperor Yang of Sui, she joined forces with a group of rebel leaders and mounted an uprising, creating a total army of nearly 70,000 men. This became known as the "Army of the Lady", and her actions against the Emperor's forces were instrumental in Lui Yuan eventually gaining the throne. Once Lui Yuan had been crowned Emperor Gaozu of the Tang Dynasty in 618, he rose Zhao to the rank of princess, honouring her more than any of his other eighteen children, and although she died five years later, her father still gave her a grand military funeral fit for a general.
Born in 1873, and the daughter of a wealthy Michigan lumber magnate, Clara Ward first achieved fame in her late teens, when she caught the eye of a visiting member of Belgian nobility, Marie Joseph Anatole Élie de Riquet de Caraman, 19th Prince de Chimay. The Prince proposed marriage, marrying Clara in 1890 when she was 16 and he was 31, and the newly styled Princesse de Caraman-Chimay was a regular fixture in the gossip columns thanks to being one of the first genuine American princesses. However, she also rapidly acquired a reputation for scandal – there were rumours of a flirtation between her and King Leopold II of Belgium, while she ended up leaving her husband after six years of marriage to elope with a Hungarian Gypsy violinist called Rigó Jancsi. Still using the title, she did her best to live off her fame by posing in shows at the Moulin Rouge and the Follies Bergere in Paris, although her marriage to Jancsi soon ended, and she married twice more before eventually dying in Padua in 1916, aged 43.
Born in 1929 to a wealthy and influential family in Pennsylvania, Grace Kelly made a name for herself as an actress at an astonishing speed, despite her father viewing the profession as 'a slim cut above streetwalker'. After gaining success on television, she was rapidly cast in the classic Western High Noon in 1952, and went on to appear in a wide selection of movies including three directed by Alfred Hitchcock – Dial M for Murder, Rear Window, and To Catch a Thief. However, in 1955 she met Prince Rainer III, the prince of Monaco, and after a one-year courtship they eventually married in 1956. Thanks to this, Kelly retired from acting and was largely known for her philanthropic work, as well as for founding the organisation AMADE Mondiale, which went on to help disadvantaged children across the world. On September 13th 1982, she was driving back to Monaco from her country home in Roc Agel when she experienced a stroke which caused her to crash her car, and despite being taken to hospital she died from complications on the following night.
Diana Spencer was born in 1961, and her family had been closely associated with the British Royal Family since both her grandmothers had served as ladies-in-waiting for Queen Elizabeth, the Queen Mother. After finishing her education in 1978, she ended up in a series of small-scale jobs like dance instructor, cleaner and hostess, but then her life was transformed in 1980 when Prince Charles started a relationship with her. The resulting marriage in 1981 was a massive affair, watched on TV by a global audience of 750 million people, while Diana became one of the most high-profile and popular members of the Royal Family. Five years later, however, the thirteen-year age gap between her and Charles resulted in him restarting his relationship with Camilla Parker-Bowles, while she engaged in a brief relationship with James Hewitt. After many details of their unhappy relationship became public, the marriage eventually ended in 1995, but Diana continued to use her profile to campaign for various charities and causes, until her death in a high-speed crash in a Paris tunnel in 1997 while trying to avoid the paparazzi.